I am a Sr. UI/UX designer in a mobile game company in Silicon Valley and I'm responsible for user research, wireframe, product design and art assets for multiple games. I have always been highly interested in drawing and reading fiction stories since my childhood. I was born and raised in the countryside of my native country, so my creative ideas mainly come from nature. I love to use natural elements for my creative characters like plants and animals. I have a MFA in New Media Computer Art from the Academy of Art University in San Francisco. Because of my graduate background I also work on graphic design projects.
In my most recent job, my focus is on user experience and visual design for mobile games. I like to create interesting elements, using soft colors and exquisite compositions. I usually get inspiration from nature and my surroundings. For me, design is not just my job, it's my passion.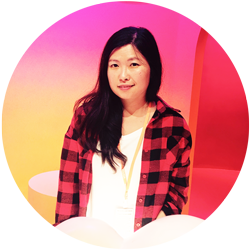 Academy of Art University
 |San Francisco, CA
M.F.A. in Computer Arts & New Media, 2007 
Chung Yuan Christian University 
| TauYuan, Taiwan
B.S. in Information Systems, 2004
Senior UI/UX Designer| Aug 2017 – Present
UI/UX Designer| Jul 2012 – Aug 2017
• Work closely with product managers, engineers and development teams to deliver high quality UI for multiple projects. 
• Create user flow, wireframes and visual mockups through iterations.
Breaktimes Studio.Inc
|San Francisco, CA
UI Artist| Sep 2011 – Jul 2012
• Responsible for UI art from concept to final production of layout and icon.
• Work closely with marketing department to deliver banners and related graphics.
Tribal Crossing
|San Francisco, CA
GameArtist| Mar. 2008 – Sep. 2011
• Responsible for art design from concept to final production of character, icon and environment art.
• Produce sketches and digital illustration for game elements.
• Construct wireframe of UI design for application and production on Facebook.
• Create company brand concept for production, including logo and official website.